AN AWARD-winning food hall has teamed up with a collection of local food specialists to create the latest product to be created with Droitwich Salt – a bacon that has been sourced, seasoned, smoked and sold within a 20-mile radius.
In celebration of 'International Bacon Day' next week, Food at Webbs in Wychbold has worked with several local producers to create the 'ultimate collaboration' is providing Droitwich with its very own salt-smoked bacon.
One of the people involved in the process was Worcester pig farmer Julian Swift.
Julian is dedicated to raising Hampshire pigs, an old English Heritage variety rather than the typical commercial cross breed.
From the farm, the pigs were processed locally and then transported 20 miles down the road to Food at Webbs where they have been skilfully prepared and cured by the experts at Buxton Butchers.
Buxton Butchers, now residents in the food hall, created the cure using Droitwich salt, sourced from one of the world's oldest and purest brine springs.
The bacon was then transported to Macneil's Smokehouse, an artisan small-scale producer based on Droitwich's Rushock Trading Estate.
Macneil's Smokehouse is well-known for its Norwegian smoking kiln and delicately smoked products.
Finally, the bacon was returned to Wychbold where it will be sliced and sold by the masterful Buxton Butchers this weekend.
Ed Webb, owner of Webbs, said: "At Food at Webbs we love to support local artisan producers and are in a great position to initiate collaborations, such as this premium bacon product.
"The bacon is a celebration of all things local from the quality farm where the pigs can roam free, to top class butchery by the experts at Buxton Butchers.
"Every stage of the process has utilised the skills and know-how of producers right on our door step."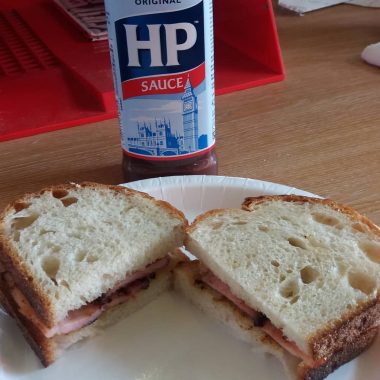 And with the product only being completed on Wednesday, the chance for the Bromsgrove and Droitwich Standard team to give it a try was just too good an opportunity to turn down.
A professional chef came into the office to cook us up some bacon sandwiches – and it did not disappoint!
Food at Webbs in conjunction with Buxton Butchers will launch this premium bacon in-store tomorrow to coincide with International Bacon Day.
Customers will be able to try free samples between midday and 2pm on Saturday September 1 and meet the producers to understand more about the bacon's local heritage.