THE Toxic Avenger at the Old Joint Stock Theatre is a wacky, in fact downright stupid, musical – but it is oh so funny!
The OJS musical theatre company has a history of 'off the wall productions' but with 'The Toxic Avenger' they hit new heights of mayhem.
Of course, if they weren't such a slick, talented bunch in command of their craft, then the whole production could be become a disaster – even laughable for the wrong reasons.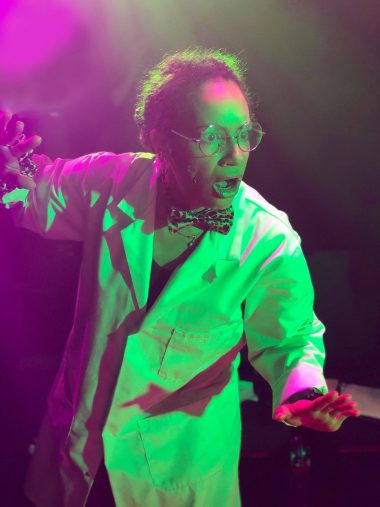 Think of a clown walking on a tightrope wearing those insane yard-long shoes – we laugh and marvel at the same time – and so do we here at the 'in yer face' cleverness of it all.
Director Adam Carver has crafted this production with great skill and vision.
The synopsis of the story is that scientist and town wimp, 'Melvin Ferd the Third' who is secretly in love with beautiful blind librarian Sarah, falls foul of corrupt city mayor 'Babs Belgoody' when he discovers she is involved in illegal activities concerning dumping toxic waste.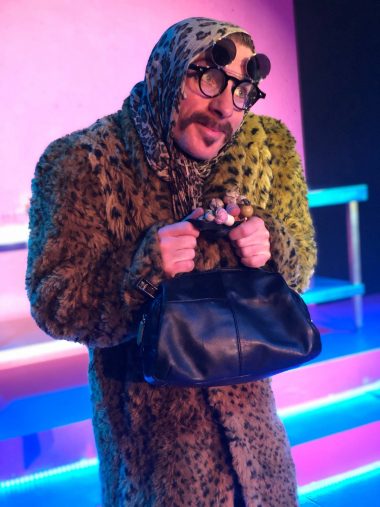 Babs dispatches a couple of henchmen to dispose of Melvin, which they do by dropping him into a vat of radioactive gunge. Rather than dying though, Melvin is reborn as a seven foot slimy, scabby, scaly super strong singing hero – 'The Toxic Avenger' – who sets about becoming Robin Hood dressed in putrid rather than Lincoln green. What follows is a riotous rock music pantomime for adults only.
Richard Haines is quite superb as both Melvin and the Toxic Avenger, being lovable and believable when he really has no right to be either.
Sarah Haines makes a zany and quite beautiful 'Blind Sarah.' She is effortlessly comedic and the parts where she forgets or loses 'accidently on purpose' her white stick and has to feel her way round the audience to find her way off stage are just hilarious. Sarah also enjoys the choreography credit and deserves a shout out for a good job there too.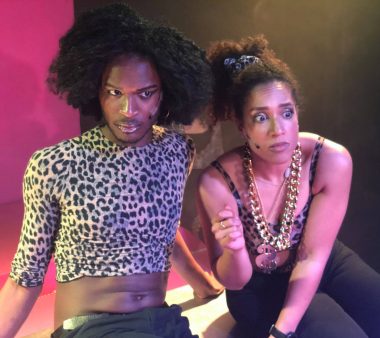 Lizzie Robins performs a magnificent double as both the wicked mayor and Melvin's mum. Her pace and timing not to mention the lightning changes she has to make between the two are spot on.
There are four more members of the company who perform a veritable myriad of roles from cops to nuns and villains to heroes. That is the deliciously soulful powerhouse that is Alanna Boden, the weird but wonderful Joash Musundi, an effervescent Elle Knowles and the man of a thousand faces Gavin Whichello. Gavin provides my favourite sequence of the night when he strums and sings 'The Legend of the Toxic Avenger' dressed only in a cowboy hat and gold pants. If you've ever seen the famous 'Naked Cowboy' entertaining the crowds on 42nd Street in New York you'd find this doubly funny.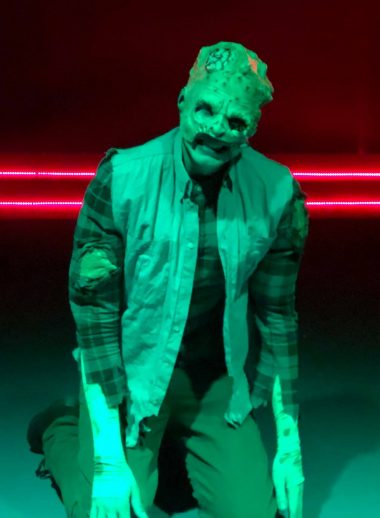 Under the musical direction of Ian Stephenson the band rock excitingly as we enjoy a score, which includes such classics as 'Get the Geek', Kick your Ass', 'Choose Me Oprah' and 'Bitch/Slut/Liar/Whore'.
I hope Joe DiPietro (book and lyrics) and David Bryan (music and lyrics) who, apparently with a little botanical help, wrote this epic based on the film of the same name make the journey across the pond and see what a triumph OJSMTC have made of it. You should do the same – a rare opportunity to have such fun.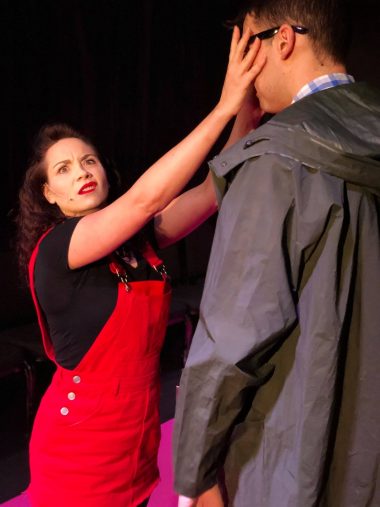 The Toxic Avenger runs at the Old Joint Stock Theatre until next Saturday, February 16. Call the Box Office on 0121 200 1892 or visit https://www.oldjointstock.co.uk/whats-on for tickets, times and more information.
Review by Euan Rose