They may be popping off fireworks and champagne corks celebrating their Independence in America tomorrow, but here in the UK we have reason to celebrate too.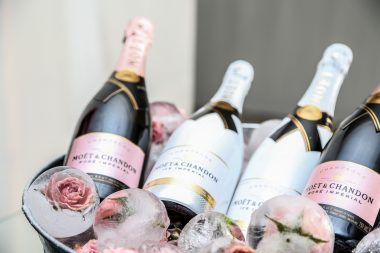 Well I for one will be. I've already got the bubbly chilling nicely and I can tell you now I'll be having my own little street party this weekend as I herald a return to my pre-lockdown self.
Who else still remembers those pre-lockdown days? Those blissful days where you could go for a jog with your hair blowing freely in the wind. Those carefree days when you could accept a call on FaceTime without cutting off the top of your head and those spontaneous occasions when you could pop to Tesco without rocking a baseball cap.
Yes folks, get your party poppers locked and loaded because praise the Lord… hair salons are opening again this weekend and I can finally say goodbye to three months of root growth.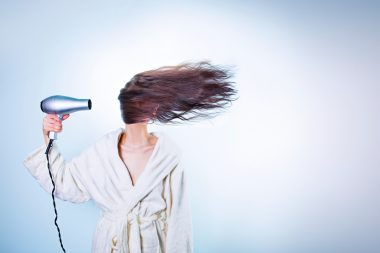 Now those that know me might think I'm a natural blond and that's just the way I've meticulously planned it. I'm from a family of blonds so people don't normally suspect a thing and I'm never late to my monthly high-lift, lightest ash blond, peroxide bleach appointments.
I also have that one childhood blond photo that I flash around. You know, the obligatory one from your younger years that you put up on Facebook when it's required. Mine is from when I was about three years old and the sunlight is catching my hair in just the right way… plus with Facetune I can lighten it up a bit.
But truth be told my name is Claire and my real hair is actually pretty black. There I said it.
In fact, during lockdown while my dad was rummaging round in his attic, he found a painting he'd done years ago featuring my mum, brother and I.
"Who's that with dark hair?" my own mother said when she saw it.
I know! I raised (a very dark) eyebrow too.
Now don't get me wrong, there is nothing wrong with dark hair. In fact, I love dark hair. One of my best friends is a former Miss Great Britain (see right) with the most divine brunette locks that cascade down her back so perfectly and I admit there is definitely an Anne of Green Gables envying Diana Barry in our whole friendship thing going on.
But I've tried being au naturel dark and it doesn't work on me.
It was a cold, scary night in about 2003 when I first dyed my hair back to it's original colour and who knew the adult me would be Morticia from the Addams Family's identical twin? I certainly didn't. It was quite a shock let me tell you. I'd have looked better as bald Uncle Fester.
So it was decided there and then I would be a blond for the rest of my life and my secret was holding up well until this dastardly lockdown.
But why didn't my baseball-capped self grab one of those DIY colour kits whilst at Tesco I hear you ask? Well truth be told I did. I've actually got about four of them lining up in my cupboard waiting to break free. But I'm actually just too scared to use them.
I've had a few past bad experiences back in my younger and much more wild days where I experimented with said dodgy chemicals and ended up frazzled and ginger. Again nothing wrong with gorgeous ginger. It's a beautiful colour. Just not the frazzled Cousin Itt variety on me.
To be honest I think I should be applauded for holding out. It's been tough but I've done it AND so have many of you I see!
Yes, I see you under that hoodie Mr Shaggy from Scooby Doo at the supermarket checkout and I also clock you at the petrol pump Worzel Gummidge.
I also notice all of you who have given it a good go. Those self-administered choppy little scissor marks on the side of your heads and my absolute favourite is the helter-skelter self-cut where one side is considerably shorter than the other.
Don't even get me started on colour and extensions…
The bottom line is we've all survived the most awful of scary hairy times and we should be proud we've all got through it together.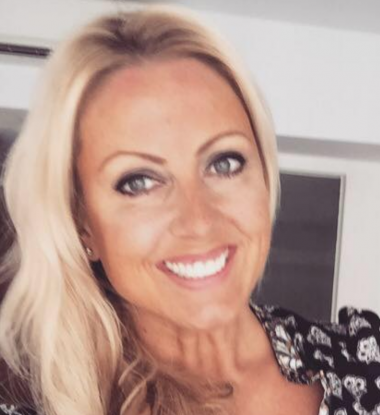 But hallelujah the heavenly doors to those magical places we call hairdressers are finally reopening tomorrow on July 4th and I will be the first in line.
I think I'll go for a cool, slick, Christina Ricci blond.
Claire Bullivant
What will the new hairdresser rules be?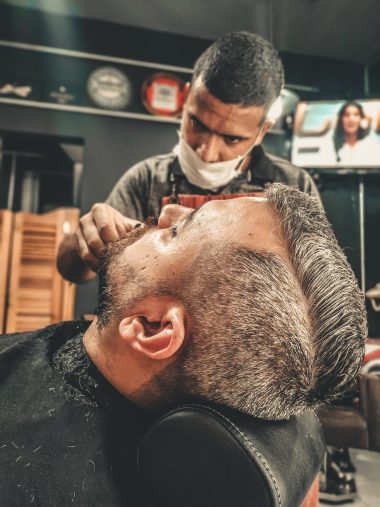 The National Hair and Beauty Federation have published a list of guidelines ahead of hairdressers' plans to reopen this week – and they state that those staple chats at your local barber or salon might be a no-go.
They say chatting should be kept to a "minimum" and stylists must "avoid face-to-face discussions with clients."
You can still chat about the style, colour or cut you want but guidelines say these "should be made via the mirror" while your stylist stands behind you keeping contact to a minimum.
It has also noted that hairdressers can "lower the risk of infection [by standing or sitting] side-to-side, rather than facing people."
Guidelines have also suggested an online appointment service to create as little contact as possible and cutting out walk-in cuts. Moreover, customers have been urged not to wear jackets and coats in warm weather, due the virus possibly living on fabric materials.
A spokesman for NHBF said: "Salons are putting their own rules in place based on common sense and trying to limit contact with clients as much as possible."
Zoë Ball owner of Bliss salon in Alvechurch equipped with hand sanitiser and a temperature thermometer (below) says: "It's going to be such a different experience for our clients but I want them to be able to relax and feel safe."